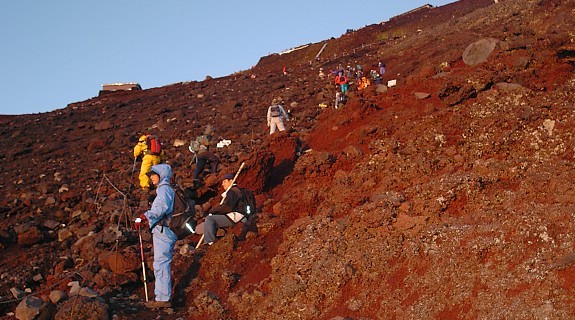 Updated 7/25: My son and I are planning to climb Fuji-san late next week. I climbed once about 15 years ago. This time is for the kids (one of them anyway).
I thought I finished planning this morning, and I reserved the bus from Shinjuku, in a day trip that would get us home by midnight. However, further discussions have nixed these plans:
My son really wants to be on top to watch the sunrise.
My wife really wants us to stay on the Yoshida trail, which handles 65% of the summer traffic and has the most first-aid facilities.
We are tentatively planning to head to Kawaguchiko Station the evening of Thursday 8/2, find a place to stay nearby, sleep in late, and head up to station 5 (五合目) early Friday evening. We hike up at night, get some rest at or near the top, and watch the sunrise from the top of Mt. Fuji. We will arrive at Station 5 on Friday 8/3 around noon on the Keio Dentstsu Bus from Shinjuku. After getting some food and adjusting to altitude for 1-2 hours, we will head up to Station 8. We booked 2 spots at the Fujisan Hotel so we can rest for a few hours and, if necessary, escape the rain. Two hours before sunrise we will hike the remaining 1.5 hours to the peak.
If all goes well we will descend Saturday morning to Station 5 and catch the 11:00am bus to Shinjuku. We will be home by Saturday afternoon.
We are preparing at least the following:
Clothes
Hiking boots
Rain gear
Gloves
Extra change of clothes
Gear
Walking poles (2 each)
Headlamps
Extra batteries
Water-resistant housing for the iPhone
iPhone charger (Eneloop)
Small can of compressed oxygen
Small towels
Food
Clif Bars
Onigiri
Plenty of water
Amino acid jelly
Candy
Please let me know if you have any further advice or recommendations.